Since its foundation, the IAC has guided its action, favouring work in partnership, and thus enhancing a more effective and efficient intervention, thus fulfilling the mission of contributing to the integral development of Children in defense and promotion of their Rights.
Above all, we seek to foster an integrated intervention, where forms of complementarity, profitability and synergies are defined, and where the principles of proactive participation, training and cooperation are dominant.
Working in partnership has its most important strength in the expression of diversity. By putting our knowledge, our experiences and our resources at the service of Others, we are mutually enriching each other and, consequently, investing in the improvement and adequacy of social intervention, making us believe that Children will not only be the utmost concern of the IAC but of all those who believe in the preservation of the Values ​​fundamental to Human Life.
Campaign Primeiros Anos a Nossa Prioridade (First Years as Our Priority)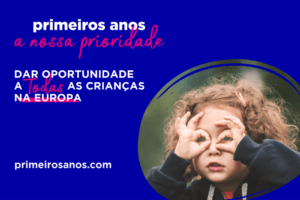 The First Years as Our Priority Campaign is a European campaign led by Eurochild that aims to give priority to children aged 0 to 6, with special attention to the first years of life. In Portugal, this initiative is coordinated by the Nossa Senhora do Bom Sucesso Foundation with whom the IAC signed a Protocol, associating itself with this movement.
"Awakening and strengthening the awareness of society in general and recognizing the importance of child development in the first years of life as a key dimension in building a healthier and more sustainable society" is the motto.
Dulce Rocha's video testimony available on the website:
PDF Document:
Primeiros anos a nossa prioridade
Site: